Salmon Farming
Join our campaign to take farmed salmon Off the table.
Sign up today
31.01.23
Award winning chefs join our Off the Table campaign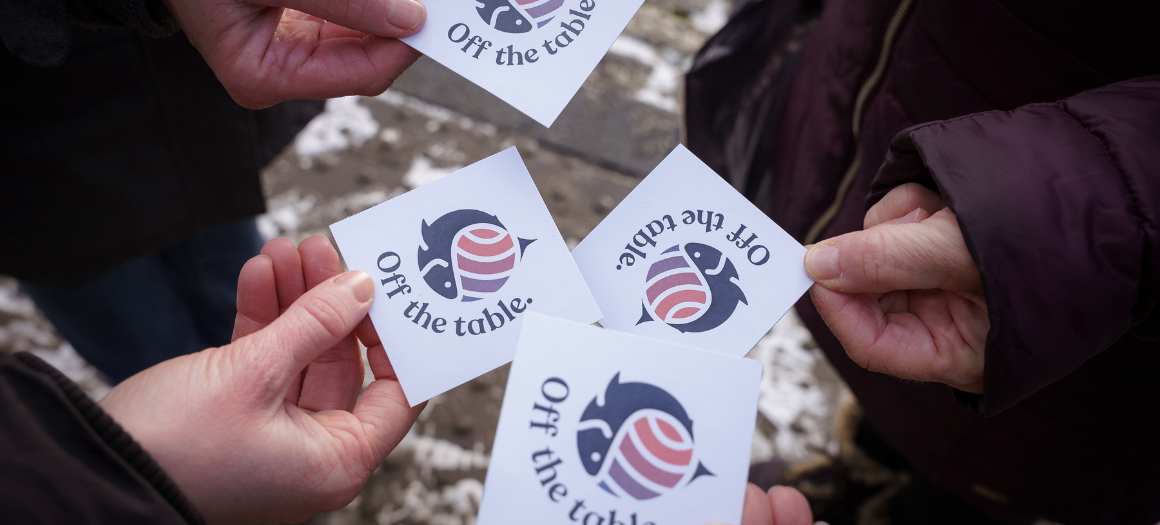 In October last year we launched Off the Table, which calls on chefs and restaurants to keep farmed salmon off their menus.
How does the campaign work?
Working in collaboration with other charities and NGOs across the UK, the campaign aims to raise awareness of the horrendous impacts of open-net salmon farming on wild salmon and the wider environment in Scotland and beyond. The campaign also addresses the sustainability and welfare issues linked to the salmon farming industry.
The campaign is calling on the hospitality sector, including chefs, food writers and thought-leaders, to raise awareness of the environmentally destructive nature of open-net salmon farming and keep farmed salmon off menus across the UK, and beyond.
The latest chefs to join our campaign
Tom Hunt is an award-winning chef, writer and climate change campaigner. He is the author of Eating for Pleasure, People & Planet, and co-founder of Poco in Bristol.
Here is why Tom supports Off the Table:
"I believe in a fairer food system that works in harmony with nature. I've come to understand that our actions matter; even as individuals we have the power to create change and to be part of the solution, simply by eating the best food we can." 
Find out more about Tom at https://tomsfeast.com/ 
Douglas McMaster is a chef, an author, a presenter and the owner of Silo, the world's firs Zero Waste restaurant.
Here's why Douglas supports Off the Table:
"Salmon farming is a gross negligence against nature."
Find out more about Doug at https://www.douglasmcmaster.com/
Darren Broom is a champion of regenerative, seasonal and sustainable British food. As the head chef of Pythouse Kitchen Garden, Tisbury, he continues to spearhead the culture of self-sufficiency and sustainability.
Here is why Darren supports Off the Table:
"Stepping away from farmed salmon, along with other food products that are damaging ecologically, ethically & environmentally has been our mission from the offset."
Find out more about Darren at https://www.pythousekitchengarden.co.uk/darren-broom
On account of open-net salmon farming's immense environmental, sustainability and welfare issues – Darren, Doug and Tom join a growing group of tastemakers who have committed to not serving farmed salmon, including MARA Fish Bar & Deli on the Isle of Arran, and the Meikleour Arms in Perthshire.
The end of the line for Farmed salmon
To protect wild fish populations and the ecosystems on which they depend, we need to take farmed salmon Off the Table and address:
1. The risk posed to our wild salmon and sea tout 
There is a wealth of evidence to show that sea lice from fish farms negatively impact populations of wild salmon and sea trout across the west Highlands and Islands.
2. The rising issue of salmon farm mortalities
Last week, salmon farming hit the headlines again as new data showed that mortalities on farms doubled between 2021 and 2022, hitting an eye-watering 15 million between January and November last year. On average, 1 in 4 farmed salmon will not survive the period that they are confined in open-net farms in the Scottish west coast and islands.
Growing mortalities indicate much more than a welfare issue on farms. The conditions leading to these high mortalities increase the industry's reliance on chemical treatments, which are then discharged into the surrounding environment. The volumes of antibiotics used in the salmon farming industry significantly increased over the last few years which risks contributing to antimicrobial resistance. Mortalities represent a colossal waste of our planet's resources, as farmed salmon are raised on a diet of wild-caught fish and plant proteins such as soya.
3. The continued reliance on unsustainable food systems
A food system that is increasingly reliant on antibiotics and continues to consume wild caught fish for feed is inherently unsustainable. Fresh seafood should not come at the expense of our planet's health or animal welfare, which is why we're calling on chefs and restaurants to take farmed salmon off their menus.
Keep up to date with the campaign a  offthetable.org.uk – and keep your eyes peeled for more announcements in the coming weeks.