21.06.21
Agricultural pollution: don't just take our word for it.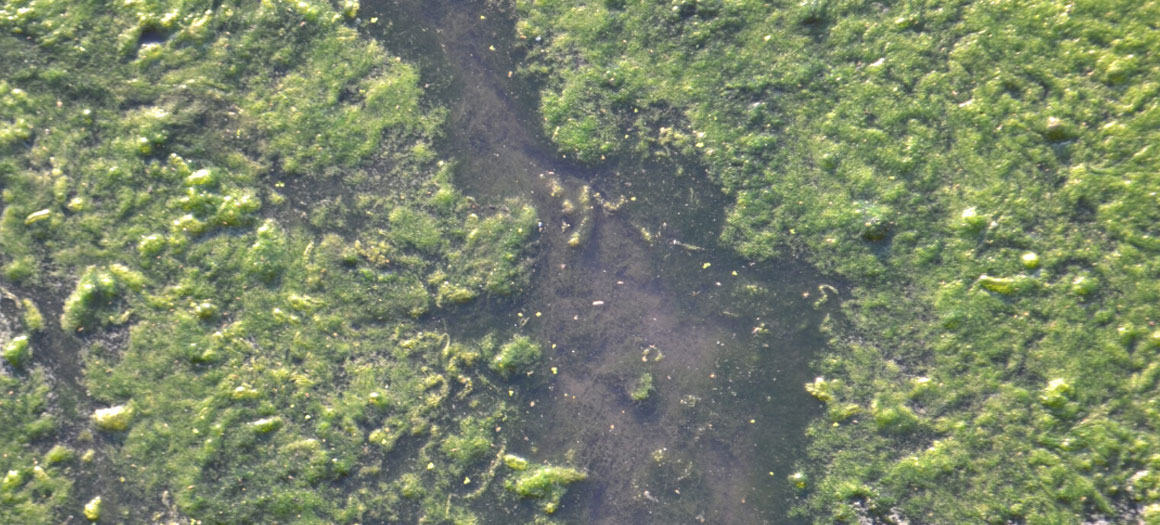 Agricultural water pollution, and the overwhelming amount of waste that intensive, modern farming produces, continues to threaten the aquatic environment. A scenario that is particularly concerning for rivers in Wales but don't just take our word for it…
Caroline Orr from Afonydd Cymru, the umbrella body for the Rivers Trusts in Wales, records pollution in her role managing the organisation's nationwide fisheries habitat restoration project. The scheme, which surveys major salmonid rivers (via walkovers) to identify restoration opportunities, was awarded just over a million pounds during 2020 to fix identified issues. This only begins to demonstrate the true extent of the problem.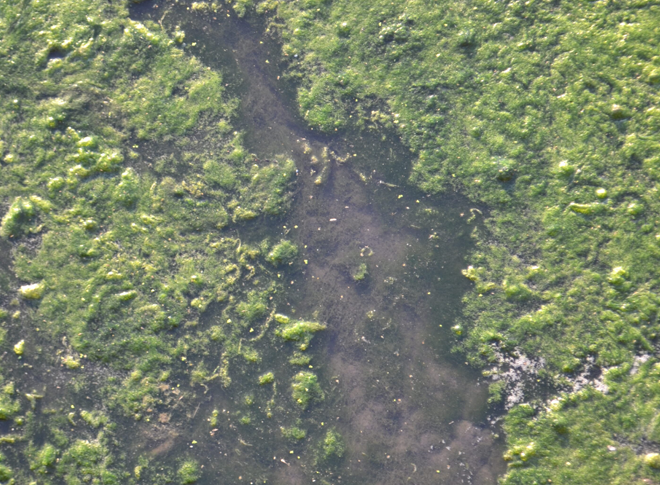 CAN YOU DESCRIBE THE IMPACTS OF SLURRY POLLUTION IN THE EXAMPLES YOU HAVE SEEN?
Freshwater biodiversity is declining at an accelerated rate when compared with that of marine and terrestrial organisms. Of particular concern is the marked decline in returning migratory fish – principally salmon and sea trout – over recent years with sea trout in southwest Wales perhaps giving most cause for concern. Sea trout are one of a number of bio indicator species whose presence indicates good water quality.
The decline in freshwater life is accompanied by widespread eutrophication on many of the rivers we monitor, a pattern that I have particularly noticed since 2016. Prevalent during the summer months due to increased temperatures and lower flows, eutrophication gives rise to algal blooms. These occur when too many nutrients (specifically nitrates and phosphates) enter the water column. They suck the oxygen out of the water and in effect suffocate organisms living in the river, including river plants such as ranunculus, as the water becomes turbid and dark.
In the southwest of Wales a huge increase in intensive dairy production has seen excessive nutrients entering the freshwater environment from farmyard slurry. Slurry also contains ammonia which is highly toxic to fish and there is growing concern over the volume of veterinary pharmaceuticals such as antibiotics and parasite treatments finding their way into rivers via this route.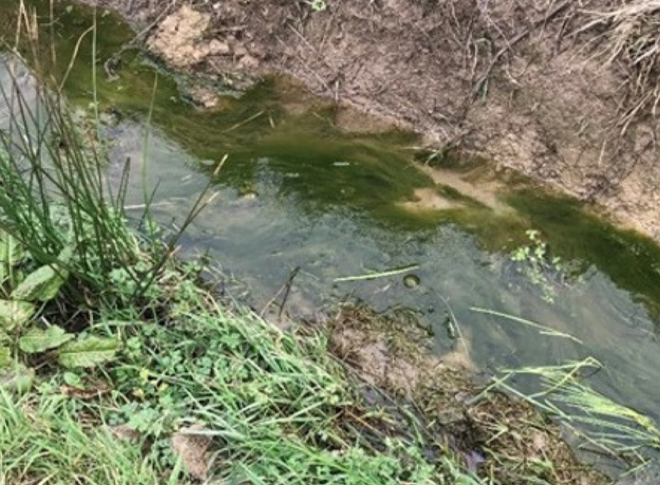 DO YOU REPORT YOUR FINDINGS TO NATURAL RESOURCES WALES (NRW)?
Every incident we record is reported to the NRW pollution incident hotline. However, I have never personally seen an on the ground response pertaining to a reported slurry pollution incident.
DO YOU THINK ROBUST AND ENFORCED REGULATION WOULD BRING BETTER PROTECTION FOR RIVERS IN WALES?
Here is the 64-million-dollar question! For agriculture to be causing pollution at such a scale is of enormous concern and to be frank the new regulations will not be worth the paper they are written on if no one enforces them. Regulation means much more than simple rules, enforcement is key.
Particularly amongst the angling community and increasingly amongst the general public there is growing concern about NRW's perceived inability to enforce even the current legislation designed to prevent agricultural pollution.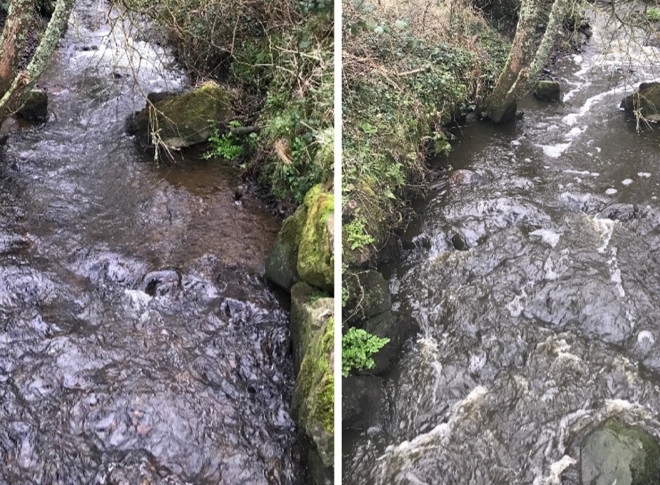 The images above are the same stretch of stream at 12.41 (left) and at 1.26 (right). Upstream of this point video footage captures a landowner emptying slurry directly into the watercourse.
WHAT DO YOU THINK IS NEEDED TO REVERSE THE DAMAGE?
Serious investment in farm infrastructure, alongside advice and support for landowners. A farm advisor reported to the Land Use Forum that of 100 farms inspected over a twelve month period, only one was found to be compliant with the Silage, Slurry and Agricultural Fuel Oil Regulations.Without this investment, farmers will be unlikely to comply with the introduction of the new regulations on slurry storage and spreading.
A massive improvement in the regulation and prevention of agricultural pollution by  The average interval between return regulatory farm visits is 260 years – you have to ask; how effective can this be? NRW has a duty to 'protect and enhance' our natural resources yet what I observe on the ground is rapid deterioration in the quality of our rivers.
Increased penalties. For the few incidents which are taken for prosecution the penalties are ridiculously low. An incident in Carmarthenshire (Tywi catchment) which killed at least 2,478 fish, destroyed much of the macroinvertebrate population (essential to the river's ecosystem) and severely affected almost five kilometres of the river resulted in a fine of just £1,760 plus costs.
Robust regulation and enforcement won't solve everything, but it's a good place to start.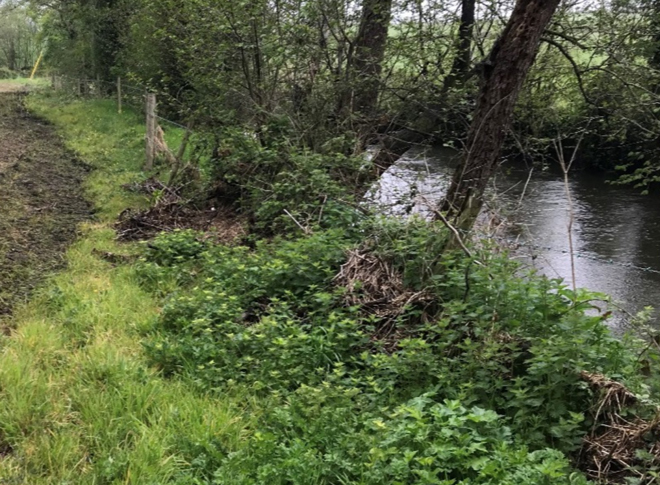 FINAL THOUGHTS…
Sadly, slurry is not the only form of agricultural pollution we encounter through our walkover surveys. Other growing areas of concern include:
Increased damage to soils causing compaction and run off leading to sedimentation from intensification of agriculture.
Plastics, used in silage storage and maize production they are commonly found throughout our surveys.
'Diversification' of farming practices which has led to the intensification of other forms of livestock farming such as pigs and chickens.
Increased pesticide use and the detrimental effects on insects affecting not only fish life but other endangered species such as bats and certain birds.
Increased herbicide use leading to the deterioration of in-river plant communities, an important indicator species and habitats in their own right.