26.10.23
WildFish and community groups raise alarm on 'sustainable' greenwashing claims made by Scottish salmon farming industry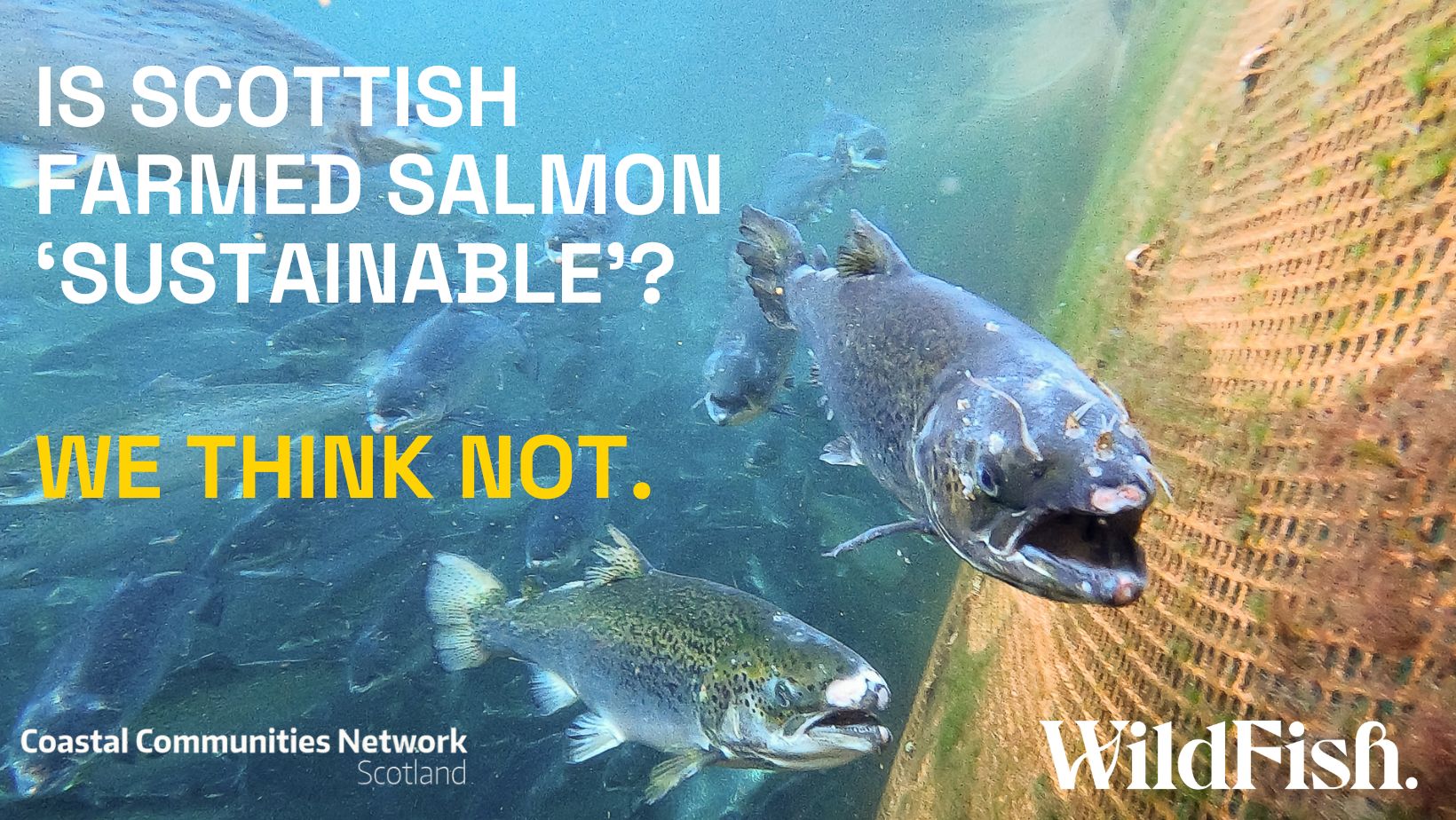 WildFish Scotland and Coastal Communities Network Scotland submit legal complaint to Competition and Markets Authority (CMA) over industry's claims to be 'sustainable', as part of the body's investigation into greenwash claims made by food companies.
Complaint comes as Scottish salmon farming industry is separately applying for its protected name (Protected Geographical Indication) to be changed from 'Scottish farmed salmon' to 'Scottish salmon'.
Both reflect attempts by industry to mislead consumers as to the origins and environmental impact of open-net farmed salmon.
The conservation and community groups, WildFish and Coastal Communities Network Scotland (CCN), have today submitted a detailed dossier and complaint to the Competition and Markets Authority (CMA) over claims made by the Scottish salmon farming industry's trade body, Salmon Scotland.
The complaint details the extensive use of the term 'sustainable' by Salmon Scotland in its recent communications, as well as the environmental, welfare and sustainability issues which cast doubt on this claim – including:
The negative impact of parasites and escaped fish from Scottish salmon farms on wild salmon

High mortality rates on the farms

Pollution of the sea by toxic chemicals used by the industry

Unsustainable use of other fish species as parasite 'cleaner fish'

Use of fish from unsustainable wild-caught fisheries to feed farmed salmon

Increasing use of antibiotics on Scottish salmon farms

Significant carbon footprint of Scottish salmon farming
"As the CMA recognises, in the minds of consumers a 'sustainable' product is one which has a positive environmental impact, or at least no adverse impact. As our complaint makes clear, the Scottish salmon farming industry can make no such claim."
Rachel Mulrenan, Scotland Director at WildFish 
This is not the first time the salmon farming industry has faced criticism about its sustainability claims. In 2019, the Scottish producer Loch Duart stopped advertising itself as 'sustainable', following an investigation by the Advertising Standards Authority (ASA).
Similarly, the settlement for a class action lawsuit in the US against Mowi (a global salmon farming company which also operates in Scotland) in 2021 led to the company dropping claims to be 'sustainable' from the advertising for some of its US products.
"Many Scottish coastal communities have realised how much harm salmon farming can do. Jobs in these communities depend on the sea being clean and healthy, so it is no surprise that this industry has lost its social licence to operate. Every salmon farm is allowed to discharge all its excrement and pesticides into the sea. They all release parasitic sea lice that can threaten wild salmon and sea trout."
John Aitchison, spokesperson for CCN
John continued: "They bring feed ingredients from across the globe and then fly much of their produce to the USA and the Far East. To make matters worse, this industry wants to double production by 2030, despite farmed fish mortality spiralling upwards, driven by climate change-enhanced diseases and parasites, and the inhumane treatments it administers for these problems. To call any of this behaviour 'sustainable' is unacceptable."
In January this year, the CMA announced that it would be investigating green claims made by companies in the Fast Moving Consumer Goods (FMCG) sector, which includes food and drink products, cleaning products, toiletries and personal care items. The investigation follows on from the body's investigation into the fashion industry which was announced in July 2022.
WildFish and CCN's complaint comes as Salmon Scotland has made moves to change the industry's Protected Geographical Indication (PGI) from 'Scottish farmed salmon', to 'Scottish salmon' – a move criticised by numerous environmental and welfare NGOs, as well as chefs and restaurants, as being highly (and deliberately) misleading to consumers.
Rachel continued: "As sustainability issues become increasingly important for consumers, we have here not one, but two ways in which the Scottish salmon farming industry is attempting to pull the wool over consumers' eyes. More than ever, people need to know the true impact of the products they are buying, using and consuming – so that they can make informed decisions. Recent behaviour by the Scottish industry is the antithesis of transparent – we hope the CMA will recognise this, and take action to tackle this blatant and misleading greenwashing."