26.01.23
Top UK chefs join campaign to take farmed salmon off the table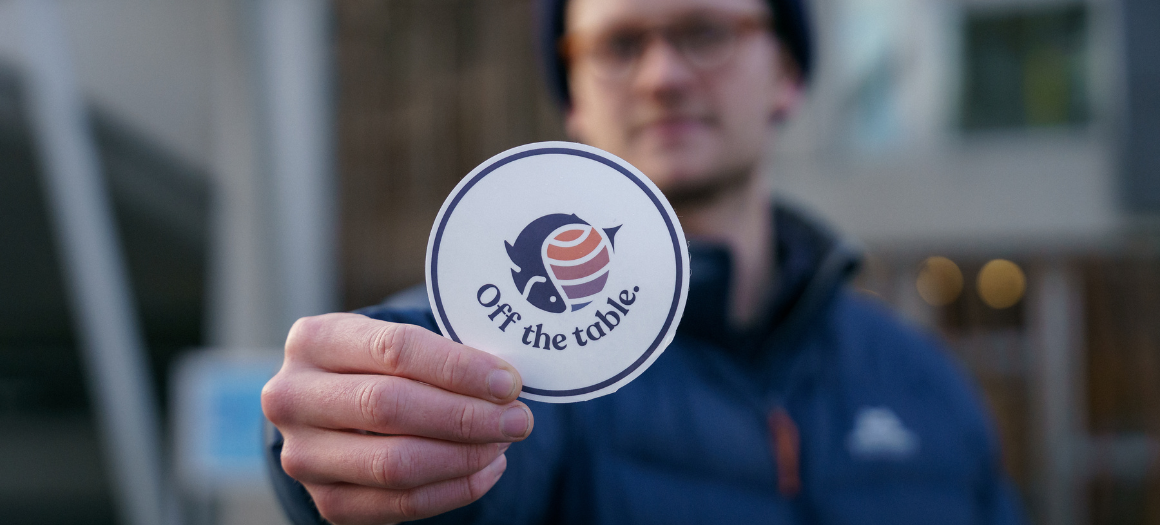 THREE award-winning and game-changing UK chefs have today announced support for a new campaign calling on chefs and restaurants to take farmed salmon off their menus. 
Tom Hunt, Darren Broom and Douglas McMaster are amongst a growing group of tastemakers who are turning away from the use of farmed salmon, on account of its immense environmental, sustainability and welfare impacts.
They join Lloyd Morse, of The Palmerston in Edinburgh, the team at MARA Fish Bar and Deli in Arran, the Meikleour Arms in Perthshire, and others, in the pledge to move towards showcasing more sustainable alternatives for diners.
Douglas McMaster is a chef, an author, a presenter and the owner of Silo, the world's first Zero Waste restaurant. Here's why Douglas, and his head chef Max Maclean support Off the table:
"Salmon farming is a gross negligence against nature."
Douglas McMaster
Owner of Silo
Maclean added: "Salmon farming is a disgusting example of profiteering with complete abandon for the natural world and its inhabitants."
Tom Hunt is an award-winning chef, writer and climate change campaigner. He is the author of Eating for Pleasure, People & Planet, and co-founder of Poco in Bristol. Here is why Tom supports Off the table:
"I believe in a fairer food system that works in harmony with nature. I've come to understand that our actions matter; even as individuals we have the power to create change and to be part of the solution, simply by eating the best food we can."
Tom Hunt
Chef, writer and climate change campaigner
Darren Broom is a champion of regenerative, seasonal and sustainable British food. As the head chef of Pythouse Kitchen Garden, Tisbury, he continues to spearhead the culture of self-sufficiency and sustainability. Here is why Darren supports Off the table:
"Stepping away from farmed salmon, along with other food products that are damaging ecologically, ethically and environmentally has been our mission from the offset."
Darren Broom
Head Chef at Pythouse Kitchen Garden
Off the Table, led by WildFish and supported by a number of NGOs across Scotland and the UK, aims to raise awareness of the dire impacts of Scotland's intensive open-net salmon farming industry on wild fish and the wider environment, as well as the associated welfare issues, such as high mortality, and sustainability concerns.
On average, 1 in 4 farmed salmon will not survive the period that they are confined in open-net farms along the Scottish west coast and islands; recently-published data revealed that the death toll in January-November 2022 amounted to 15 million fish; almost double that of 2021 (8.5million) [1].
Open-net farms are plagued by parasitic sea lice, which disperse from the farms and can infect and kill migrating wild salmon and sea trout. Since the 1970s, global populations of wild Atlantic salmon have collapsed; recent data has shown that wild salmon and sea trout catches in Scottish rivers in 2021 were the lowest since records began in 1952, and in January 2022 the Scottish Government agreed that the wild salmon population was in crisis.
A report published by the Veterinary Medicines Directorate in November last year showed that salmon farming is the only UK livestock industry that is increasing its use of antibiotics, with 8.9 tonnes used in 2021; this is double the amount used in 2017, when data was first published [2].
"The eye-wateringly high mortality rates and the industry's increasing reliance on antibiotics speaks volumes – this is an intensive farming industry in which a plethora of diseases are causing serious welfare and environmental issues.
Dr Matt Palmer
Farmer Salmon Campaigns Manager
Matt added: "fresh seafood should not come at the expense of our planet's health or animal welfare, which is why we're calling on chefs and restaurants to take farmed salmon off their menus."
Concerns about intensive open-net salmon farming have grown in recent years around the globe, with increasing numbers of national and state governments banning the industry from its waters. Last November, Washington State became the latest state to move towards banning open-net fish farms, joining California, Oregon and Alaska, as well as Argentina and Denmark.
Contrasted with this, and in spite of growing evidence of its negative impact on the environment, the Scottish Government continues to support the industry, and its objective to double production in the coming years, from 200,000 tonnes per year, to 300-400,000 tonnes.
"The clock is ticking on this unsustainable industry. The loss of 15 million farmed salmon last year reveals an industry struggling to contain the negative welfare and environmental impacts of its operations.
Rachel Mulrenan
WildFish Director, Scotland
visit off the table
---
List of references
https://www.theguardian.com/environment/2023/jan/15/salmon-death-scotland-fish-farm-jellyfish-overcrowding#:~:text=Tavish%20Scott%2C%20chief%20executive%20of,pressures%20that%20affect%20survival%20rates.